How Ho'oponopono Can Help You
outlined some of the understandings I received by doing the Ho'oponopono Practitioner's Course. Nine months to a year after that another opportunity arose to further develop my learning – Certification in Advanced Ho'oponopono. What follows are the powerful takeaways from it that inspired me. The course contained the input of the following practitioners and how Ho'oponopono had inspired them in advancing their modalities.
Harry Bartholomew – the Power of Vibration; Marissa Perks – Aromatherapy & Chakras; Kit Holmes – the Labyrinth; Mathew Dixon –  the Power of Music; Steve G. Jones – Hypno'ponopono; Chuck Pennington – Harmony & Mastermind; Dr. Joe Vitale – Advanced Clearing Techniques; Dr. Mary Oz – The Ho'oponopono Challenge; Michael Abedin – Reiki, Flower Remedies, and Forgiveness
All of the presenters provided great actionable methods. I took pages of notes as a result. When I returned to my notes these were the pieces that held special regard for me.

Photo by 
Dark Rider
 on 
Unsplash
Matthew "Guitar Monk" Dixon mentions in the course of his talk
(Ho'oponopono and the Power of Music)
 the quote above by Brian Eno. He also says that in music if you make a mistake once it is a mistake. If you make the mistake twice, it's jazz.  Interesting I should have this piece programmed for today and I receive this in my email – a saying from Gene Wilder – "I trust if your life is right, the right things will happen at the right time. If the chords are in harmony inside, I think other things will happen in the same way." Mistakes are an invitation to change something on the inner first. From cultivating that change within, our outer experience changes. Jazz is improvisation and innovation within music. Mistakes force us to improvise and innovate within to evolve our lives for the better. The more we improve, the more harmonious those inner chords become. Our vibrations create openings for the universe to bring people, experiences and things to us that are in accord with that vibration. Mistakes are opportunities within Ho'oponopono to clean and to continue to clean. Not only do we have the whiteboard as an analogy for the 'Great Something' out of which we allow inspiration to arise – we could also use the unplucked string. An unplucked string is awaiting the inspiration of a musician, awaiting improvisation and innovation. Awaiting the Divine. It is the creation through vibration, of something beautiful. The unplucked string is pregnant with the expectation of the Universe singing through it, of being open to deeper harmony. It has come back to stillness. As we clean on our "mistakes" the data falls away, the whiteboard is erased. The Divine can now work through us, instead of our data creating a barrier to the infusion of the "Great Something" in our lives.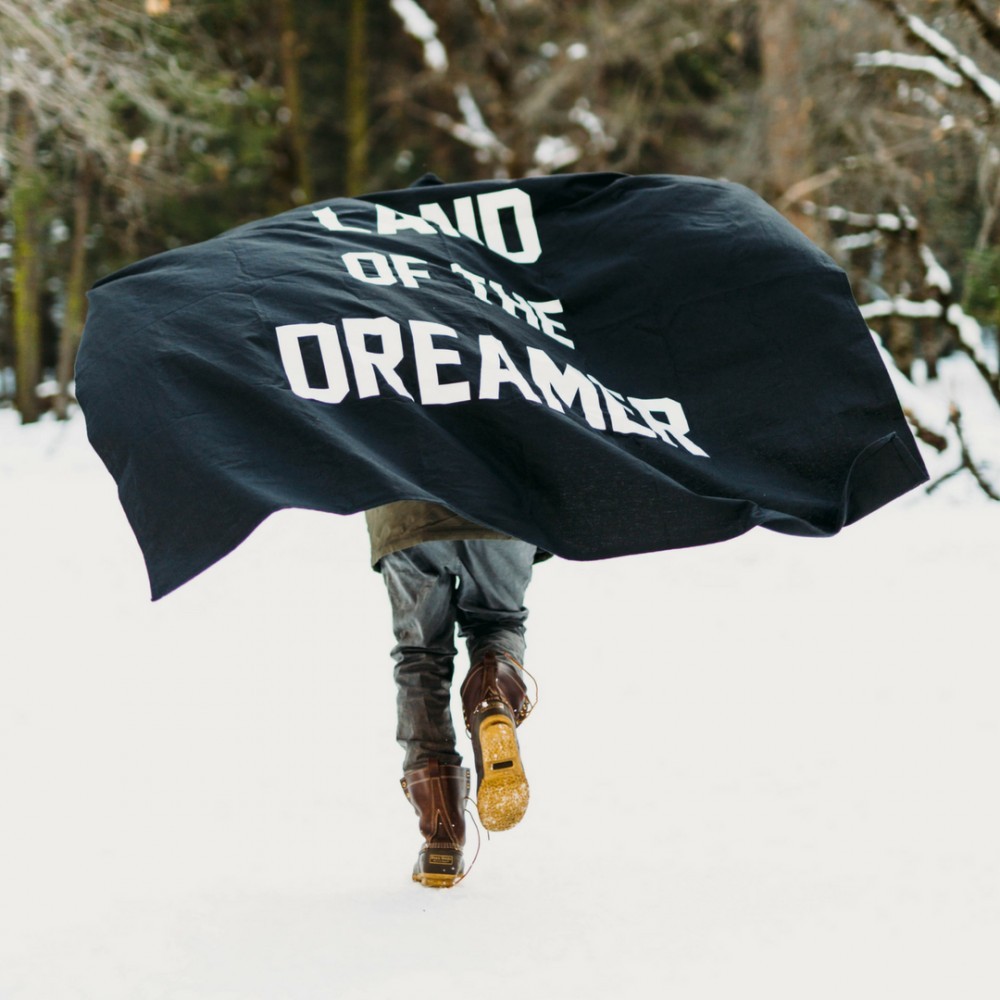 Photo by 
Nathan Dumlao
 on 
Unsplash
Have you ever sought something only to discover that when it is found you become scared and run away? Return and open your heart to it!
This was something that Michael Abedin –
Ho'oponopono, Reiki, Flower Remedies, and Forgiveness 
said in the body of his presentation. I'm not sure about being scared of something and then running away after discovering it. When I consider that, it's really my uncertainty of having the belief to actually attain the thing I'm seeking. From there I sink into some form of self-sabotage where I'm not motivated to bring that which I seek to fruition. Self-sabotage is the baggage I carry round in an old duffle bag. It holds familiar garb, comfortable attire for a mind that comes home and sits on the couch replaying old movies and reruns. I waste time on other activities, I procrastinate, I find something that is almost as important as believing in becoming a full-time internet marketer. Self-sabotage is the running away. I don't need to run away physically, I can easily do it in my psyche. There are plenty of recesses in my mind that are good hiding places. If I look at running away from a different perspective I might see it as a "running to". Eventually, I will tire from running away and have to stop. Where I am now is where I've run to. The scenery may be different, but the things I carry with me won't necessarily have changed. Wherever I am, opening my heart will bring the gifts I require. I'm a staunch believer in what we put out we will then receive. If I present with a closed heart, I won't be surprised if I am ignored. Open-heartedness enables me to receive the gift of another open heart. Smiles most often beget smiles.
Stop Running!
When I stop running and open my heart I make the time. I become still within and realize the stillness is the whiteboard on which divine inspiration displays itself. I sit and type a post, creating content for my blog. Time falls way. I'm surprised how little time it takes to produce even 150 words. If I just did that every day I'd have a 1000 word blog post every week. And yet I still find things to draw me away. The four Ho'oponopono phrases come back to me. I'm sorry. I forgive myself. I'm thankful I see both the obstacles and the way through. I love I'm able to do this. It still amazes me how this works. I decided to look for an image to illustrate this running away or running to and in my search, I find the above. Someone running from or to carrying a banner "Land of the Dreamer". Ho'oponopono is the Land of the Dreamer. As we become clearer, it is the place from which inspiration arises, the place where we stop running and allow our dreams to put down roots. And this place is within each of us.
To begin your journey in Ho'oponopono Click Here!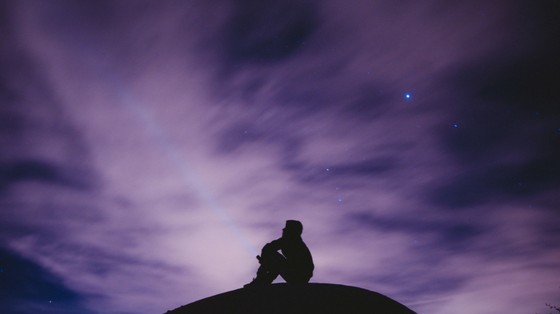 Photo by 
Jeremy Bishop
 on 
Unsplash
Surrender = Alignment with the "Great Something"
Joe opened the workshop with his new understandings of Ho'oponopono.
Both the opening of our heart and the allowing of a mistake to show itself as a hidden intention or inspiration are incidences of Surrender. It is aligning and allowing the Great Something to work through us. Surrender is when we desist from plucking the string and let it become still. It's when we wait for the string that is the soul to be plucked by the divine. We hear the call within…. "Not my will, but thine be done." When we let go of perceptions and the interruptions of the mind, surrender happens. It allows the fullness, the opportunity inherent in the whiteboard.
Surrender = Empowerment
Surrender is the empowerment that emanates from the soul, the empowerment that comes from zero. When we have surrendered we become 100% responsible for all we experience through our presence. We are the fulfillment of that which we were created to do. That which is perfect for each of us already lies within us. Surrender is the letting go of memory. All that we speak, all that we hear, see and feel feeds into memory and becomes the data we need to clean. As soon as our miraculous moments have passed they become data. It is easy to allow ourselves to sink into the comfort of these sorts of memories. This comfort is a barrier to zero. Again we need to erase and in the erasing is the surrender. From imperfection to perfection we ride the waves from data to cleaning to zero to inspiration to the miracle. When we surrender we offer ourselves in faith for the divine to work through us. Faith in itself is a cleaning tool. When we go forth in emptiness and await inspiration it is faith enacted. We just keep cleaning. And hold ourselves in grace.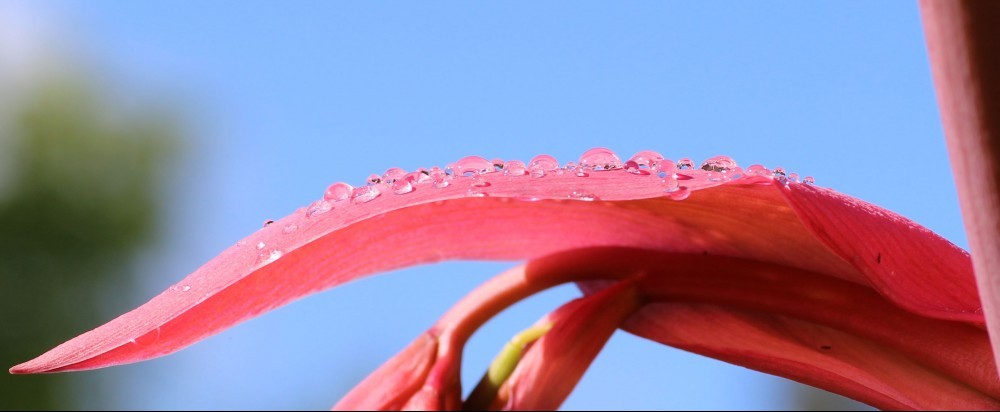 Photo from personal collection
Grace of God
In Ho'oponopono dew drops refer to the Grace of God. And one of the definitions of Grace is around divine assistance. It's exactly what we receive when bringing Ho'oponopono to our particular modality or simply use the 4 phrases. A sustained practice is always an act of faith and an entering into soul space humbly. Soul space is grace. There's nothing we have to do. Just allow ourselves to be and let our actions flow from the grace of being. Touched by the dew, moist –  in that there's something about the fertility of inspiration. In the drops, we witness not only the plant bearing the dew magnified but they also act as a mirror for other plants in the proximity – a reflection of beauty, of the divine nature of nature.
Conclusion
Ho'oponopono is a way of magnifying our personal inspiration, and of polishing the mirror in order to witness our own divinity and the divinity of those people and experiences with whom we connect. Trusting our mistakes, opening our heart and surrendering – each of these allows us to clothe our souls with God's Grace. Each is a diving board into the divine pool, and an ongoing pathway for living our inspiration. Blessings to you.
To know more about Ho'oponopono Click Here!